The Association would like to thank the Americal Division Veteran's Association for their assistance in making this site possible.
196th Light Infantry Brigade Honor Roll
List of 196th LIB Killed in Action
CODES FOR THE HONOR ROLL LISTING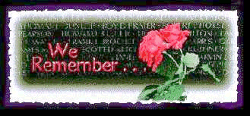 UPDATED - 9/15/11 For an Adobe Acrobat file of the Honor Roll by date Click Here

9/15/11 - For an HTML version of the Honor Roll by date CLICK HERE



UPDATED - 3/10/2012 An Adobe Acrobat file of the 196th Honor Roll with Company and Battalion

This list, showing units, has been compiled from a database previously
available at http://www.virtualwall.org/docs/vwdbase.htm
Our thanks and appreciation to the volunteers that built the database for all the Names on the Wall
As this list was built by volunteers, it contains some mistakes and names with no unit listed.
As you find names that need correction, please submit them on the FORUM.
Our thanks to Joe Mahoney for checking each name and making needed corrections to our database.